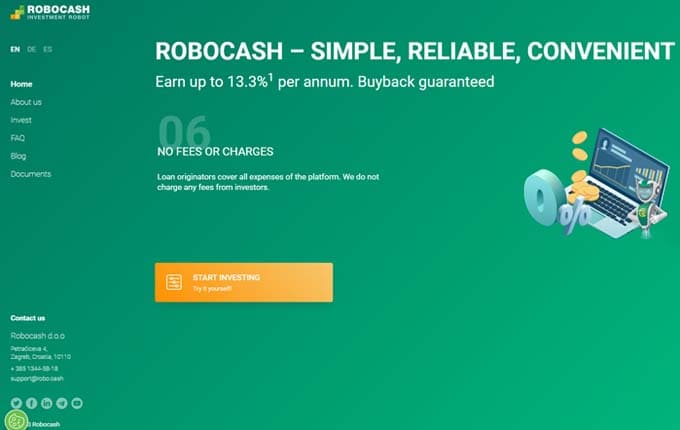 https://robo.cash/

Robocash
Simple. Reliable. Convenient.
Type of investment
- Money lending
Type of funding
- P2P lending
Invest
Robocash overview.
If you're interested in investing through Robocash, we have prepared this comprehensive review to assist you in evaluating whether it aligns with your investment goals. In this review, we will delve into the advantages and disadvantages of Robocash to help you make an informed decision. It's important to note that the information provided in this review should not be construed as financial advice.
What is Robocash?
Robocash is a P2P lending platform established in 2017 and registered in Croatia. It specializes in providing funding for short-term loans that are backed by a 30-day buyback guarantee and offer an average annual yield of 12%. What sets Robocash apart from other P2P platforms is its unique feature of allowing investors to participate in unsecured P2P loans from various markets. You have the opportunity to invest in loans from countries such as Kazakhstan, Spain, Singapore, Sri Lanka, and the Philippines.
Robocash operates as a subsidiary of Robocash Group, a company that was founded in 2013. Since its inception, Robocash has experienced rapid growth and has emerged as one of the leading P2P lending platforms. Opening an account on Robocash requires a minimum investment of just €10, making it accessible to a wide range of investors.
How does Robocash work?
Robocash lives up to its name by providing a robotic-like experience for investors. The platform offers an auto-invest function that allows you to invest in P2P loans effortlessly. With this feature, any surplus funds in your account will be automatically invested in new loans, enabling you to put your investments on autopilot.
The main focus of Robocash is to finance short-term loans that are backed by a 30-day buyback guarantee. This guarantee ensures that Robocash will repurchase the loans if the borrower is unable to repay them. It provides an added layer of security for investors. However, it's important to note that the buyback guarantee is contingent upon the loan originator's ability to fulfill the guarantee, and the risk of bankruptcy should be taken into consideration.
Investing with Robocash
Any individual residing in the European Union (EU), the United Kingdom (UK), or Switzerland, who is at least 18 years old and holds a personal bank account in EUR currency, is eligible to become an investor on Robocash. Registering on the platform is straightforward and requires submitting your personal documents for verification. Once your identity is confirmed, you can add the desired investment amount to your account. Next, you can create a portfolio with your preferred investing parameters.
Upon registration, your account will consist of two separate balances: the investor's balance and the portfolio balance. Initially, you need to transfer funds from your personal bank account to the investor's balance. Then, you can proceed to set up your portfolio, and your funds will be transferred to it, commencing the generation of profits.
The investment process on Robocash is fully automated. You have the flexibility to select loan originators, loan terms, income options, and more. The platform provides a comprehensive overview of available loans based on your specified settings. Once your portfolio is established, your funds will be automatically invested in eligible loans within one hour, ensuring a streamlined investment experience.
Robocash auto-invest
Robocash exclusively operates with an auto-invest feature, meaning manual investments are not supported. To begin investing on the platform, you are required to deposit your funds and configure your Auto Invest settings accordingly. When setting up your auto-invest strategy, you can assign it a name and specify the desired investment amount. Additionally, you have the flexibility to adjust various parameters to align with your investment preferences.
For instance, you can determine the maximum amount you wish to invest in a single loan and set your preferred interest rate range. Furthermore, you have the freedom to define how you want your funds to be allocated. You can choose whether to prioritize minimizing risk or opt for maximum returns. You can also decide whether to reinvest the full amount received or select specific loan durations, such as investing solely in 30-day loans. Additionally, you have the option to exclude specific loan originators based on your preferences.
Robocash's auto-invest functionality offers a wide range of customizable options to cater to your investment goals. Although manual investing is not available, the comprehensive auto-invest feature ensures efficient and effective investment management.
Robocash buyback guarantee
Robocash provides its investors with a 30-day buyback guarantee, ensuring added security for their investments. If a loan becomes delayed for more than 30 days, the responsibility falls upon the loan originator to repurchase the debt from the investor. In such cases, the investor is reimbursed both the initial investment amount and the interest accrued during the holding period once the loan is repaid.
It is important to note, however, that the effectiveness of the Robocash buyback guarantee relies on the financial stability and capability of the loan originators. If a loan originator is unable to fulfill their obligation of repurchasing the investments, the buyback guarantee may not hold true. Therefore, it is advisable to conduct thorough due diligence and evaluate the financial position of the loan originators before making investment decisions through Robocash. By assessing the loan originators' financial strength, you can make informed choices to mitigate potential risks associated with the buyback guarantee.
What rate of return can you expect?
On the Robocash platform, investors can anticipate an average return of approximately 12.00%. This return rate is consistent with the industry average found on other similar platforms. By offering a competitive return, Robocash aims to provide investors with a favorable opportunity to grow their investments.
Robocash secondary market
Robocash provides investors with a secondary market feature, allowing them to sell their long-term loans and access their funds before the scheduled maturity date. To utilize the secondary market on Robocash, investors must have held the loan for a minimum of 6 months. If there is no buyer for the loan within 14 days, Robocash guarantees to repurchase it on the 15th day. Notably, loans with a maturity of at least one year can be bought and sold without any additional fees for both the buyer and seller, enhancing the flexibility of investment exit options.
Robocash loyalty program
Robocash offers a loyalty program to incentivize investors to increase their investments. By participating in the Robocash loyalty scheme, investors can earn additional rewards based on the amount they invest. The loyalty program tiers and their corresponding investment bonuses are as follows:
Bronze: Invest €5,000 and receive a 0.3% investment bonus.
Silver: Invest €10,000 and receive a 0.5% investment bonus.
Gold: Invest €15,000 and receive a 0.7% investment bonus.
Diamond: Invest €25,000 and receive a 1.0% investment bonus.
Platinum: Invest €50,000 and receive a 1.3% investment bonus.
The loyalty scheme provides investors with the opportunity to earn higher returns as they increase their investment amount on the Robocash platform.
Brief summary and reviews of Robocash
Robocash is a user-friendly P2P lending platform that offers a reliable buyback guarantee and provides a stable average return of 12% per year. It is considered one of the top P2P lending platforms for short-term lending. The platform specializes in funding short-term loans that are secured by a 30-day buyback guarantee. Robocash is owned and operated by Robocash Group, a lending group with approximately 10 years of industry experience. The platform offers a level of safety through its buyback guarantee on loans, providing added security for investors.
Robocash summary
Advantages:
Competitive returns of 12% within the P2P lending market.
Access to a secondary market.
30-day buyback guarantee on loans.
Low minimum investment amount of €10.
Points to consider:
Manual investments are not supported on the platform.
Invest