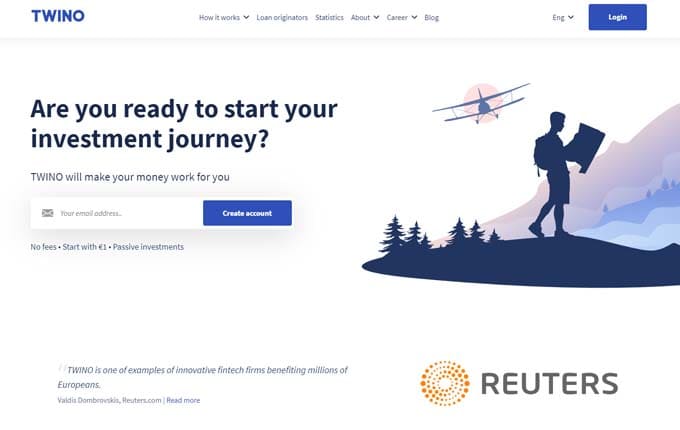 https://www.twino.eu/en

TWINO
Are you ready to start your investment journey?
Type of investment
- Money lending
Type of funding
- P2P lending
Invest
TWINO platform review.
When it comes to investing in loans, selecting the right platform is crucial for successful investments. Discover the benefits of TWINO, a reliable option for investors seeking profitable lending opportunities and asset protection. With TWINO's investment and trading platform, you can fund various types of loans (consumer, business, real estate) and earn attractive interest income. Experience potential returns of around 11% per year through loan investments on TWINO.
What is TWINO?
TWINO is an esteemed investment and trading platform that empowers investors to fund loans across various sectors including consumer, business, and real estate. Established in 2015 and headquartered in Riga, Latvia, TWINO brings a wealth of experience in the lending industry. With its rapid growth and increasing investor interest, TWINO offers a compelling opportunity to tap into the thriving P2P lending industry. Let's start earning interest income on your investments with TWINO today!
How does TWINO investing platform work?
At TWINO, all investment opportunities revolve around loans issued by lending companies owned by TWINO Group. These loans undergo rigorous credit risk scoring procedures, ensuring quality and reliability. Once approved, the loans are made available on the TWINO investment platform for funding by investors like you. By investing in these loans, you unlock an exceptional opportunity to earn attractive interest income.
As investors fund loans, they receive interest income corresponding to their investments. With an average annual return of around 11%, TWINO investors enjoy an impressive yield that surpasses many other investment options. In fact, it's a hard figure to beat, especially when it comes to generating passive income.
TWINO generates revenue by charging interest and commissions on the lent capital. A portion of this income is shared with investors as interest income, while the rest is allocated to cover platform costs and generate profits. With TWINO, you can invest with confidence, knowing that your financial goals are supported by a robust and profitable lending ecosystem.
Type of investment available on TWINO
Previously, TWINO platform offered investments in loans (claim rights) where investors could purchase the rights to receive loan repayments. However, with the transition to a licensed investment brokerage company in 2021, TWINO is now focused on offering investments in asset-backed securities known as Loan securities.
These Loan securities are regulated financial instruments that provide investors with the opportunity to invest in business loans issued to loan originators. The loan originators utilize the funds to issue loans to individual borrowers. By investing in these asset-backed securities, you can participate in the lucrative world of money landing.
With TWINO, you can invest in Loan securities with a minimum investment amount equal to the nominal value of one Security, typically starting at €1 (subject to potential changes during principal repayments). Experience the stability and regulatory oversight of investing in Loan securities on the TWINO platform, empowering you to diversify your portfolio and potentially maximize your returns.
Investing with TWINO
Getting started with TWINO is a breeze. Simply open a free account on their user-friendly website, and you'll be on your way to investing in no time. The registration process is quick, taking less than 5 minutes to complete. As part of the process, you'll be asked to verify your identity, ensuring a secure investing environment.
To invest on TWINO, individual investors must be at least 18 years old and citizens and residents of a European Economic Area country. Legal entities registered in Latvia also have the opportunity to invest on the platform.
Once registered, you'll undergo a remote verification process with Onfido, a trusted third-party verification service. You'll be prompted to take photos of your ID or passport, as well as a selfie. This step is vital to comply with financial crime prevention regulations, giving you added peace of mind.
Join TWINO today and seize the opportunity to grow your wealth effortlessly through their user-friendly platform!
Adding funds
Once you've successfully created and verified your account on TWINO, you gain immediate access to the platform's investing options. The next step is to deposit funds into your account, allowing you to kickstart your investment journey. TWINO simplifies this process by providing a dedicated bank account with an IBAN, making transfers a breeze. Please note that if you're investing as an individual, transfers can only be made from your personal bank account. Joint transfers from multiple bank accounts are not supported. Once your funds have been transferred to your investment account, you're all set to begin investing.
Rest assured, all funds transferred to TWINO are securely held in a separate bank account exclusively designated for TWINO investors. Should you choose to withdraw any uninvested funds, you can easily request a transfer to your personal bank account. TWINO guarantees a swift payout within 2 weekdays upon receiving your application.
Investor protection mechanism
At TWINO, your investment security is a top priority. With regulatory oversight and investor protection measures in place, you can have confidence and peace of mind as you engage in investment activities on the platform.
TWINO Investments, as an investment brokerage firm, operates under the supervision of Latvijas Banka. Committed to investor protection, TWINO adheres to the regulations outlined in the Investor Protection Law of the Republic of Latvia.
As per Article 3, Part 2, Point 4 of the law, investors enjoy certain safeguards. In the event that TWINO is unable to fulfill its obligations towards an investor, the investor is entitled to compensation. This compensation amounts to 90% of the value of irretrievably lost financial instruments or losses resulting from an unexecuted investment service. It's important to note that the compensation is subject to a maximum limit of EUR 20,000.
It's crucial to understand that this compensation provision does not cover instances where investors incur losses due to changes in the prices of financial instruments or the illiquidity of such instruments.
TWINO auto-investing
Investing on TWINO is made even more convenient with their auto-invest feature. While manual investing is an option, the auto-invest function offers a faster and time-saving approach. With auto-invest, you have the ability to reinvest your earnings seamlessly, allowing your money to work harder for you.
By setting your own investment criteria, you have full control over your investment strategy. TWINO's auto-invest function will automatically allocate funds based on your chosen criteria, ensuring a hassle-free investing experience. You can customize parameters such as loan types, durations, interest rates, and investment amounts to align with your investment goals.
Flexibility is key with auto-invest. As an auto-invest user, you retain the freedom to switch to manual investing whenever desired. You can temporarily pause or completely cancel the auto-invest application to suit your preferences.
Whether you prefer a hands-on approach or the convenience of automated investing, TWINO offers the flexibility and tools to cater to your investment style. Experience effortless investing and make the most of your investment opportunities with TWINO's auto-invest function.
TWINO secondary market
By leveraging the secondary market on TWINO, you can efficiently manage your investments according to your financial needs and market conditions.
In situations where you require immediate access to your investments on the TWINO platform, the secondary market offers a solution for an early exit. The secondary market provides a platform where you can sell your securities to other investors, granting you increased liquidity and flexibility.
When utilizing the secondary market, you have the freedom to set the price of your securities when selling. This allows you to have control over the transaction and optimize your potential returns. Additionally, you also have the option to invest in securities that are being sold by other investors, further diversifying your portfolio and exploring new investment opportunities.
TWINO mobile app
TWINO understands the importance of convenience and accessibility for investors. That's why they have developed a user-friendly mobile app that allows you to manage your investments effortlessly, whether you're at home or on the move. Best of all, the TWINO app is completely free to download and use.
With the TWINO mobile app, you can easily track and monitor your current investments, ensuring that you stay updated with the latest information and performance. Additionally, the app provides a seamless experience for making new investments, allowing you to take advantage of investment opportunities whenever and wherever they arise.
The TWINO app is available for both Android and iOS devices, ensuring compatibility with the majority of smartphones and tablets. With TWINO mobile apps you can stay connected to your investments and make informed decisions on the go.
Summary of TWINO platform
When it comes to investing, TWINO stands out as a serious platform that offers attractive rates to its investors. With a profitable business model, TWINO provides a solid foundation that sets it apart from many other alternatives in the market.
Investing on the TWINO platform is made hassle-free through their auto-invest portfolios. This feature allows you to easily diversify your investments and optimize your returns, saving you time and effort in the process.
It's important to note that TWINO primarily offers loans from their own group of lending companies. While this may limit the variety of investment opportunities, it also ensures a higher level of control and transparency. Additionally, TWINO is currently available exclusively to European investors, which may be a drawback for those outside the European market.
Overall, TWINO provides a trustworthy and competitive platform for investors seeking solid returns. With their profitable business model and convenient auto-invest portfolios, TWINO offers a reliable option for individuals looking to grow their investments.
TWINO summary
Advantages of Investing with TWINO:
TWINO offers competitive returns within the P2P lending market, with an average return of 11% per annum.
Clear investor protection mechanism to safeguard the interests of investors.
With a minimum investment requirement of only €1, TWINO provides accessibility to a wide range of investors, including those with a limited budget.
TWINO offers an auto-investment feature that simplifies the investment process.
TWINO provides a user-friendly mobile app available for both Android and iOS devices.
Points to consider when investing with TWINO:
It's important to note that TWINO primarily offers loans from their own TWINO group of loan originators. As an investor, it's essential to evaluate the diversification and risk associated with investing in a platform that offers loans exclusively from its own group.
Occasionally, there may be a limited number of loans available on the platform.
Invest