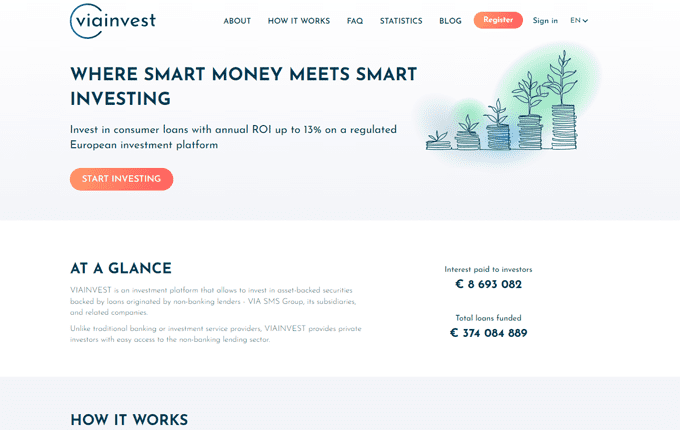 https://viainvest.com/

VIAINVEST
VIAINVEST in consumer loans on a regulated European investment platform.
Type of investment
- Money lending
Type of funding
- P2P lending
Invest
VIAINVEST platform review.
Welcome to our review of VIAINVEST, a prominent peer-to-peer lending platform specializing in consumer loans. In this review, we will delve into the workings of VIAINVEST, exploring its features, investment options, and overall user experience. Whether you are an experienced investor or just starting out in the world of P2P lending, join us as we explore the key aspects of VIAINVEST and evaluate its potential as a platform for generating attractive returns through money lending.
What is VIAINVEST?
VIAINVEST is a leading European P2P lending platform that acts like a bridge between investors and borrowers in search of short-term consumer loans. The platform is designed to offer investors a secure and hassle-free method to invest in consumer loans, providing attractive returns and a user-friendly experience.
Established in 2016 and headquartered in Latvia, VIAINVEST operates under the umbrella of the VIA SMS Group. The group has a solid track record since 2009, operating across multiple European countries, including Sweden, Poland, and the Czech Republic. This extensive experience adds to VIAINVEST's credibility and trustworthiness in the P2P lending industry.
How does VIAINVEST work?
VIAINVEST operates as a dynamic marketplace, connecting private European investors with a range of loan originators who have already issued loans. Through this platform, investors have the opportunity to invest in asset-backed securities issued by the VIA SMS Group. Unlike traditional banking or investment services, VIAINVEST offers private investors a straightforward process to access the non-banking lending sector.
Borrowers approach the VIA SMS Group and its subsidiary companies to request funding in the form of loans. These loans, originating from various loan originators, are then grouped together into loan pools. After undergoing the securitization process, all securities linked to a specific pool of loans are published on the VIAINVEST platform under a common ISIN (International Securities Identification Number provided by Nasdaq Riga). This structure enables investors to easily access and invest in these loan pools, allowing them to decide on the desired investment amount for each specific pool of loans.
Types of investments available on VIAINVEST
When investing on VIAINVEST, your primary focus will be on short-term unsecured loans that come with a 30-day buyback guarantee. These loans are issued by the lending subsidiaries of VIA SMS Group, ensuring a transparent and easily understandable investment process. The majority of loans available on VIAINVEST come with a buyback guarantee, meaning that if a loan becomes more than 30 days overdue, the loan originator repurchases the loan from the investor, providing an additional layer of security.
It is worth noting that VIAINVEST has recently obtained the status of a regulated investment firm. This means that your investments will be made in asset-backed securities (ABS) rather than assignment agreements or claim rights. An ABS is a financial instrument comprising a bundle of loans with similar characteristics. However, it's important to understand that investing in ABS instead of individual loans does not provide substantial additional benefits. The risk associated with a specific investment in a bundle of loans remains the same.
Overall, VIAINVEST offers investors an opportunity to engage in short-term unsecured loans backed by a buyback guarantee, ensuring transparency and security in the investment process. The recent regulatory status change to ABS investments provides an alternative investment structure, though the underlying risk profile remains consistent with individual loan investments.
Investing with VIAINVEST
VIAINVEST stands out for its user-friendly account opening process, which is both quick and straightforward. Registering on the platform takes just a few minutes, and all you need to do is provide some basic personal information, verify your identity, and link a bank account. This seamless and hassle-free process makes it incredibly convenient for new investors to join the platform and start exploring the wide range of investment opportunities available. Whether you're a novice investor or an experienced one, VIAINVEST makes it easy to get started and dive into the world of peer-to-peer lending.
Performance and returns
The average annual return for investors on VIAINVEST is around 12%. While VIAINVEST offers attractive investment opportunities, it's important to remember that, like any investment, there are inherent risks involved. In the context of P2P lending, the primary risk is borrower default. However, VIAINVEST takes steps to mitigate this risk through its buyback guarantee, which provides an additional layer of security for investors. This guarantee ensures that if a borrower fails to repay a loan, the loan originator will repurchase it from the investor.
However, it's crucial to note that the effectiveness of the buyback guarantee is contingent upon the financial stability of the loan originator. Therefore, it is advisable to assess the overall creditworthiness of the platform and its affiliated lending companies. Evaluating the financial strength and reputation of these entities can help investors make informed decisions and manage the associated risks effectively. It's always recommended to conduct thorough due diligence before making any investment decisions.
Investors protection and risk management
VIAINVEST stands out for its commitment to providing investors with comprehensive loan information, including details about the loan originator, borrower's credit score, and loan purpose. This level of transparency empowers investors to make well-informed investment decisions and builds trust in the platform. Furthermore, VIAINVEST ensures transparency in its fee structure, which is relatively low compared to other P2P lending platforms. Notably, VIAINVEST does not charge investors any fees for using its services, allowing investors to retain a greater portion of their earnings. This fee policy enhances the overall attractiveness of VIAINVEST as an investment platform.
VIAINVEST auto investing
For investors who prefer a more hands-off approach to selecting loans, the VIAINVEST auto-invest feature proves to be a valuable asset. This convenient tool offers the benefit of full control over the investments you receive, almost akin to manually selecting them yourself. By utilizing the auto-invest feature, you can streamline the investment process and enjoy the flexibility of customizing your investment preferences while saving time and effort. Whether you're a busy investor or simply prefer a more automated approach, the VIAINVEST auto-invest feature provides a practical solution to help optimize your investment strategy.
VIAINVEST buyback guarantee
VIAINVEST provides investors with the assurance of a 30-day buyback obligation for loans that are identified with a Buyback Guarantee icon. This guarantee ensures that if a borrower fails to make timely payments or defaults on the loan, the lending business is obligated to repurchase the claim right from the investor. It's important to note that the effectiveness of the buyback guarantee is contingent upon the issuer's ability to fulfill their promise. As an investor, it is crucial to be aware that the buyback guarantee is only as reliable as the issuer's financial stability. Conducting due diligence and assessing the issuer's credibility can help investors make informed decisions and manage their investment risks effectively.
VIAINVEST secondary market
Currently, the VIAINVEST platform does not provide a secondary market where loans can be bought or sold between investors. If you wish to withdraw your funds from VIAINVEST, you will need to wait until the end of the investment period. However, it's worth noting that the majority of loans offered on the platform have a relatively short term of approximately 30 days. While the absence of a secondary market may limit immediate liquidity options, the short loan durations provide investors with a reasonable timeframe for accessing their invested funds. It's important to consider your investment horizon and liquidity needs when choosing to invest on VIAINVEST.
Investor experience and user interface
The VIAINVEST website boasts an intuitive and user-friendly interface, making it effortless to navigate and manage your investments. The platform's well-designed layout ensures a seamless user experience, allowing you to easily find the information you need. The account management system provides a clear overview of your portfolio and investment performance, enabling you to stay informed at a glance.
In case you have any inquiries or concerns, VIAINVEST's customer support team is known for their responsiveness and helpfulness, ensuring that you receive timely assistance when needed. With a user-friendly website and dedicated customer support, VIAINVEST prioritizes providing a smooth and efficient investment process for its users.
Brief summary and reviews of VIAINVEST
VIAINVEST is a user-friendly platform that offers a solid option for P2P lending, specifically focused on consumer loans. It is particularly well-suited for beginners due to its intuitive interface and ease of use. In terms of returns, VIAINVEST offers competitive rates compared to other platforms in the industry.
However, it is important to be aware of the slightly higher share of non-performing loans on VIAINVEST, which introduces a level of risk. While the platform provides a buyback guarantee on loans, mitigating some of the risks, it's crucial to consider the potential impact of non-performing loans on overall returns.
In summary, VIAINVEST is an attractive choice for investors seeking higher returns and low investment minimums. However, due to the elevated risk associated with non-performing loans, it may not be the ideal option for risk-averse investors who prioritize capital preservation. It is important for investors to carefully assess their risk tolerance and investment goals before considering VIAINVEST as a platform for P2P lending.
VIAINVEST summary
Advantages:
Offers competitive returns within the P2P lending market - 12%
Automatic investment option
Buyback guarantee on loans
Mobile app
What you should pay attention to:
No secondary market
Slightly higher share of non-performing loans than industry average
Invest