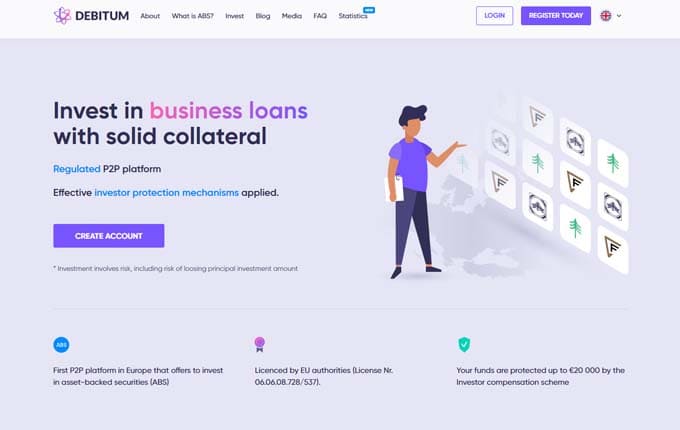 https://debitum.network/en/

Debitum Network
Invest in business loans with solid collateral.
Type of investment
- Business funding
- Money lending
Type of funding
- P2P lending
Invest
Debitum Network overview.
If you're considering investing through the Debitum Network platform, this review aims to provide valuable insights to help you make an informed decision. Debitum Network offers an investment platform where both retail and institutional investors can invest in loans for small businesses. This unique business model presents notable advantages that distinguish it from other crowdfunding platforms. One of its key strengths lies in its ability to offer attractive annual returns while maintaining low risk levels. By offering this balance, Debitum Network provides an appealing opportunity for investors.
What is Debitum Network?
Debitum Network is a Latvian peer-to-business (P2B) lending platform that specifically caters to the needs of small and medium enterprises (SMEs). Established in 2018, the platform addresses the challenge faced by many small business owners who miss out on promising opportunities due to liquidity constraints. These limitations can stem from factors such as excessive regulations or an underdeveloped banking environment in their respective countries. Consequently, these small businesses lack the necessary capital to invest in essential resources and manpower, which could potentially lead to greater profits in the future.
Debitum Network serves as a fintech solution for such businesses, providing them with the required liquidity to scale their operations. The platform offers various loan types, including invoice financing, business loans, trade financing, and promissory notes. By bridging the liquidity gap, Debitum Network aims to empower SMEs and facilitate their growth and success in the market.
How does Debitum Network work?
Debitum Network provides investment opportunities in financial instruments such as business loans and invoice financing, which are collectively referred to as Asset-Backed Securities (ABS). ABS is created by pooling together underlying assets, which in this case are business loans. Each ABS consists of multiple securities with a nominal value of €0.01 each. Investors can participate in these investments by acquiring sets of securities, with a minimum investment size of 5000 Securities worth €50 per set. Regardless of the investment size, all investors gain exposure to the underlying loans in the pool in proportion to the loan amount.
Investing in ABS allows for risk diversification across all the underlying loans within the specific pool. By consolidating loans through a securitization process regulated by the appropriate authorities, financial institutions like Debitum Network aim to mitigate the risk associated with the default of the entire financial instrument. Even if individual underlying assets face default, the risk of default on the entire ABS is significantly reduced.
Debitum and other similar platforms transitioned from "claim rights in loans" to "asset-backed securities" due to regulatory requirements imposed by the Latvian regulator. The introduction of new rules for P2P lending marketplaces necessitated a shift to a different investment structure offering investments in financial instruments. While the platform is now regulated in Latvia, it's important to note that this change does not necessarily result in a significant increase in safety. Investors are still exposed to default risks arising from non-performing assets.
All assets within the ABS are backed by real collateral obtained from the businesses comprising the underlying pool. Depending on the specific business, investments are secured by invoices, receivables from companies, or overcollateralization through future revenues from well-established enterprises, governmental institutions, and other reputable entities.
Loan originators
Debitum Network operates as a peer-to-business (P2B) marketplace, where the platform facilitates the provision of financial instruments, specifically pools of loans, from different lenders. The loan companies that participate in Debitum Network's platform undergo a rigorous selection process and are closely monitored. In fact, the platform is highly selective, with only around 10% of applicants meeting the requirements to list their loans on the platform. Currently, Debitum Network collaborates with loan originators based in Latvia, Estonia, Lithuania, and the UK. This careful vetting and collaboration with trusted loan originators ensure the quality and reliability of the loans available on the platform.
Investing with Debitum Network
The registration process for Debitum Network is quick and straightforward, taking just a couple of minutes. All you need is a photo of your face and a valid ID or passport. After providing your personal details and address, you will be prompted to upload a copy of your ID document and a photo of yourself. Once you've submitted these documents, Debitum Network will review and approve your account. Once your account is approved, you can proceed to deposit funds and begin investing.
How investors earn returns?
The potential return on your investment with Debitum Network is dependent on your chosen investment strategy. Currently, the platform has an average return of 10%, indicating that a similar return can be reasonably expected. Investors receive monthly interest payments from the ABS programs in which they have invested. Usually the principal amount invested is repaid to investors upon the maturity date of the ABS, when the ABS is fully repaid. The loan originator repays the remaining principal either through accrued payments from the underlying borrower companies (SMEs) or by repurchasing the outstanding underlying assets, thereby returning the invested principal to investors.
In the event that the underlying asset pool cannot be maintained or if the loan originator decides to exercise early redemption, early repayment may occur, and the outstanding principal is either partially or fully repaid before the original maturity date.
Debitum Network buyback guarantee
The majority of loans listed on Debitum Network are backed by a buyback guarantee provided by the loan originator. This guarantee ensures that if a loan repayment is delayed beyond a predetermined number of days (usually 90 days), the loan originator is obligated to repurchase the loan and cover the remaining principal amount as well as any outstanding interest.
Furthermore, if the loan repayment is delayed beyond the grace period (typically 15 days), you may be entitled to receive a penalty rate in addition to the regular interest. In summary, the buyback guarantee offered by Debitum Network covers the loan principal, accrued interest, and late penalty fees, providing an additional layer of protection for investors.
Debitum Network auto investing
As a result of the change in investment structure from "claim rights in loans" to "asset-backed securities", the auto-invest feature on the Debitum platform is currently inactive. To invest in asset-backed securities on Debitum, you will need to invest manually. The platform is actively collaborating with the regulator to determine the appropriate design and functionality of the auto-invest feature that will comply with the regulatory rules. This means that in the future, an updated auto-invest feature may be introduced on the platform to streamline the investment process.
Debitum Network review summary
Debitum Network is considered one of the top P2B lending platforms available, offering a user-friendly experience. It has demonstrated better loan performance compared to many other peer-to-peer platforms. The platform's regulatory oversight by Latvian regulators enhances trust in its services. Debitum Network employs a robust due diligence process, resulting in relatively low risk compared to other platforms.
While the return on Debitum Network is approximately 10%, which is slightly lower than some other platforms, the enhanced security measures provided by Debitum make it a favorable choice for investors. By prioritizing investor interests and maintaining a focus on long-term investments, Debitum Network aims to deliver a satisfactory experience.
So, if you are seeking a P2B marketplace that prioritizes investor interests and offers a reliable long-term investment option, Debitum Network is likely to meet your expectations.
Main takeaways from Debitum Network review:
Advantages:
Competitive returns of 10% within the P2P lending market.
Buyback guarantee provided for loans, ensuring added security.
Strong due diligence and monitoring practices for lending companies.
What to consider:
The absence of a secondary market, limiting liquidity and the ability for early exit.
Invest