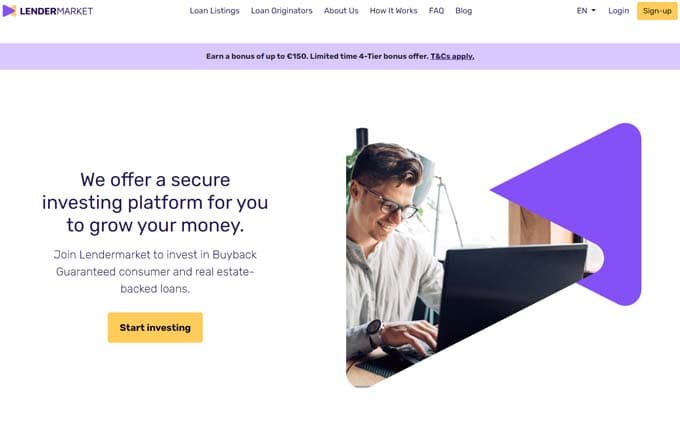 https://lendermarket.com/

Lendermarket
We offer a secure investing platform for you to grow your money.
Type of investment
- Money lending
Type of funding
- P2P lending
Invest
Lendermarket review.
If you're considering investing in loans, choosing the appropriate platform is vital to achieve successful investments. This comprehensive review of Lendermarket will enable you to evaluate whether this P2P lending platform aligns with your financial goals and preferences. Prior to investing through the platform, we strongly advise you to read this Lendermarket review.
What is Lendermarket?
Established in 2019, Lendermarket is a peer-to-peer (P2P) lending marketplace designed to finance the loans of the international lending group Creditstar. While officially registered in Ireland, it is understood that Lendermarket's primary business operations are based in Estonia, possibly for tax efficiency purposes. The platform features predominantly short-term loans, typically ranging from 1 to 3 months, and offers a 60-day buyback guarantee. Notably, Lendermarket allows a minimum deposit of only €10.
How does the Lendermarket platform work?
Lendermarket's parent company is actually the sister company of the Creditstar Group, from which many of the loans on the platform originate. Previously, Creditstar made its loans available for investment on other P2P platforms. However, with the launch of Lendermarket, it appears that the group aims to exert more control over the loan funding process.
On Lendermarket, the loans are already issued to the borrowers, meaning that when you invest in loans on the platform, you effectively provide the loan originators with additional liquidity.
The investment journey on Lendermarket follows the following process:
Initially, a borrower applies for a loan at Creditstar. If the loan is approved, Creditstar funds the loan using its own capital.
Subsequently, Creditstar collaborates with Lendermarket to make the loan available for investment. At this stage, investors like yourself can invest in the loans and generate profits.
To ensure that the lending company continues to generate profits, the loans are offered at a lower interest rate than what the company earns from them.
Once the loan is fully funded, Creditstar has additional funds to issue more loans.
This creates a mutually beneficial situation between the lending company and the investors on the Lendermarket platform.
Investing on Lendermarket
Registering on Lendermarket is a simple and streamlined process. All you need to do is provide your contact information and ID card number. Once you've completed the registration form, you'll be required to verify your email address and undergo biometric identification. The online identification process typically takes less than five minutes and involves capturing photos of your face and ID document.
Once your account is activated by the platform, you can proceed to transfer funds to your investor account. Currently, the accepted method for deposits is SEPA transfer. Both deposits and withdrawals are processed within three business days, ensuring efficient management of your funds on the platform.
Investor protection mechanism
Every loan on the Lendermarket platform is accompanied by a buyback guarantee. This guarantee comes into effect if a loan becomes more than 60 days overdue. In such a scenario, the lending company is obligated to repurchase the loan from you as an investor. This includes both the principal amount you invested and the accrued interest.
The buyback guarantee is particularly advantageous to you as it safeguards against potential losses resulting from defaults on short-term loans. Therefore, in your everyday investment activities, you won't have to bear the burden of those losses.
However, it's important to note that if the lending company providing the buyback guarantee goes bankrupt, the guarantee becomes ineffective since there won't be anyone to fulfill the repurchase obligation. Consequently, it's crucial to bear in mind that the strength of a buyback guarantee relies entirely on the financial stability and reliability of the company backing it.
Lendermarket auto-investing
Lendermarket offers a convenient auto-invest feature, which is one of its notable advantages. This feature enables you to automate your investments, eliminating the need for manual selection of new loans each time one of your existing loan investments matures. With auto-invest, you can seamlessly keep your investments running without continuous intervention.
Lendermarket secondary market
Currently, Lendermarket does not provide a secondary market. However, this limitation is not considered a significant concern since the majority of loans available on the platform have short maturities of 1-3 months. As a result, the absence of a secondary market is less impactful, given the relatively brief duration of the loans.
Summary of Lendermarket platform
Lendermarket caters to investors with a preference for higher yields and a relatively higher risk tolerance. In comparison to other platforms, there are limited alternatives available for achieving similar high returns. If you are seeking to invest in consumer loans with elevated risk, Lendermarket presents itself as a viable option. By investing in loans with a 60-day buyback guarantee, you have the potential to earn annual returns of up to 15%. It's important to note that while Lendermarket offers attractive returns, the options for diversifying your investments and ensuring liquidity are somewhat restricted.
Lendermarket pros and cons
Pros of Investing in Lendermarket:
Lendermarket provides highly competitive returns in the P2P lending market, averaging 15% per annum.
All loans on the platform come with a buyback guarantee, ensuring an additional layer of protection for investors.
With a minimum investment requirement of just €10, Lendermarket offers accessibility to a diverse range of investors, including those with limited budgets.
Points to Consider when Investing in Lendermarket:
Lendermarket may have a higher number of delayed loans compared to the average in the P2P market.
The platform has a limited number of loan originators, potentially affecting the diversification of investment opportunities.
Currently, Lendermarket does not provide a secondary market, limiting liquidity options for investors.
Invest