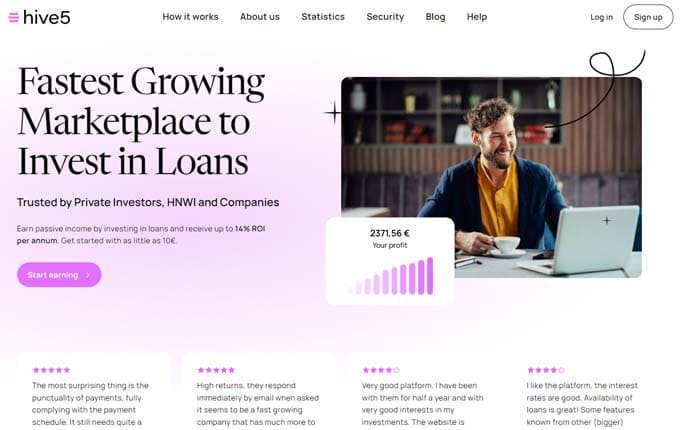 https://hive5.co/

Hive5
Fastest growing marketplace to invest in loans.
Type of investment
- Money lending
Type of funding
- P2P lending
Invest
Hive5 platform overview.
If you are contemplating investing through Hive5, we have prepared this comprehensive overview to assist you in your decision-making process. Our objective is to offer an in-depth analysis of the pros and cons of Hive5, empowering potential investors to assess whether this platform is a suitable fit for their investment objectives. Please note that this review is solely based on our analysis and should not be construed as financial advice. The information provided here serves as a valuable starting point to gain insights into the essential features and considerations related to Hive5.
What is Hive5?
Hive5 is a P2P lending marketplace that provides investors with the opportunity to invest in a variety of loan types, including Buy Now Pay Later (BNPL), business, and short-term loans. Launched in 2022 by the Hive Finance group, Hive5 operates under the legal framework of Croatia. The platform offers an attractive average annual return of 14% for investors, positioning it as one of the higher-yielding P2P lending platforms available.
The loans available on Hive5 are characterized by their high risk and high reward nature. To address the default risk, Hive5 has implemented a buyback obligation on loans. This means that if loan payments are more than 60 days late, the loan originator is obligated to repurchase the loan along with the accrued interest. With a minimum investment amount of just €10, investors can start their journey on Hive5.
How does Hive5 work?
The Hive5 platform serves as a marketplace connecting loan originators seeking funding for business growth with investors looking for investment opportunities to generate passive income and secure their future. It's important to note that Hive5 does not directly issue loans. Instead, loan originators from various countries bring their loans to the platform. Hive5 acts as an intermediary, facilitating the sale of claim rights between investors and loan originators.
Hive5's partners, the loan originators, list the loans on the platform that have been issued to borrowers in their respective countries. Investors can view the available loan listings and choose the loans they wish to finance and the desired investment amount.
Investors have the flexibility to invest manually or utilize the Auto Invest feature, which allows them to create a portfolio strategy based on their chosen criteria. Each investor maintains complete control over their investment level in individual loans or specific loan originators. Once an investment is made, the funds are allocated to the designated loan originators in which the investor has invested.
Loan originators
Hive5 collaborates with loan originators Ruptela and Ekspres Pozyczka, both of which are owned by the holding company of Hive5. It can be advantageous to work with loan originators closely connected to the platform. However, in order to enhance diversification, it would be beneficial to see a greater variety of loan originators from different countries represented on the platform. This would provide investors with a broader range of investment opportunities and further mitigate risks associated with concentrating investments in a limited number of loan originators.
Investing with Hive5
Starting with Hive5 and putting your money to work generating interest on the platform is a straightforward process. The first step is to open an account and complete the verification process, which can be done swiftly. The entire account setup, including ID verification, takes less than 5 minutes.
Next, you'll need to deposit funds into your account to begin investing in loans and earning interest. Depositing funds is simple and can be done through a bank transfer. Once your funds are available, you can start investing in loans on the platform.
You have the option to manually browse through available loans and invest manually. However, we highly recommend utilizing the auto-invest function, which allows you to set your portfolio preferences once and automatically invest in new loans without constant intervention. This way, your investments can grow efficiently and consistently.
Risk Management
Please note that Hive5 is not regulated under any financial services license. When you invest on Hive5, you are purchasing claim rights for loan receivables, and it's important to be aware that investments in loan receivables carry certain risks. We strongly advise diversifying your investments and carefully evaluating the associated risks before making any investment decisions. It is essential to understand the potential risks involved and make informed choices to protect your investment capital.
Rate of return
The returns you can potentially earn on Hive5 will vary depending on the specific loans in which you choose to invest. Currently, the platform offers loans with annual returns of up to 14%, with most loans falling within the range of 13-15%. These rates are comparatively higher than what you typically find on similar P2P platforms. However, it's important to note that higher returns often come with increased risk, so it's essential to carefully consider the associated risks before making any investment decisions.
Hive5 buyback guarantee
The Hive5 buyback obligation provides investors with a guarantee from the loan originator that if a borrower's loan repayments are delayed by more than 60 days, the loan originator will repurchase the loan in its entirety, including the accrued interest. This feature is implemented to enhance investor security and mitigate potential losses resulting from late payments or defaults.
By offering a buyback guarantee, Hive5 aims to minimize the risk associated with late payments or loan defaults. In such cases, the responsibility lies with the loan originator to cover the outstanding amount, providing reassurance to investors. However, it's important to note that the effectiveness of the buyback guarantee is contingent upon the financial stability of the loan originator. If the loan originator experiences financial difficulties or goes bankrupt, the buyback guarantee may not be fulfilled, directly impacting investors.
As an investor, it is crucial to consider the financial standing and reputation of the loan originators associated with Hive5, as well as diversify your investments to mitigate potential risks. Conducting thorough research and due diligence can help you make informed investment decisions.
Hive5 auto investing
Hive5 offers investors the flexibility to invest both manually and automatically. The auto-invest tool, in particular, is a popular choice among P2P investors as it simplifies the investment process and enables a passive investing approach. With the automatic investment strategy, you have the ability to customize various parameters to align with your investment preferences.
Using the auto-invest feature, you can set the desired portfolio size and investment amount per loan. Additionally, you have the option to choose specific loan originators, specify the loan term, select your preferred interest rate, and enable automatic reinvesting. We recommend utilizing the automatic reinvestment feature as it allows for a more passive investing experience. This is especially beneficial given that many of the loans available on the Hive5 marketplace are short-term loans.
By configuring your auto-invest settings, you can ensure that your investments align with your chosen criteria and preferences, while also saving time and effort in managing your portfolio. Whether you prefer manual investing or leveraging the auto-invest tool, Hive5 provides options that cater to different investment styles.
Hive5 review summary
Hive5 is an emerging P2P lending platform that aims to democratize access to the lending market, making it accessible to a wide range of investors. With a knowledgeable management team and strong ties to one of the main loan originators, Hive5 is well-positioned to offer attractive returns to its investors.
The platform provides diverse investment opportunities, including the popular Buy Now, Pay Later (BNPL) loans, allowing investors to diversify their portfolios and benefit from the user-friendly interface Hive5 offers. One notable feature is the seamless auto-invest function, which simplifies the investment process and enhances the overall user experience.
While Hive5 is a relatively new platform with a limited number of loan originators, it predominantly focuses on short-term loans, reducing the need for a secondary market for early exits. However, the absence of an early exit option may be a factor to consider for some investors seeking more flexibility.
As Hive5 continues to grow and expand, it is expected to introduce additional features and broaden its pool of loan originators, enhancing the investment experience for its users. Despite some limitations, Hive5 provides a promising opportunity for investors looking to explore the P2P lending space.
Main takeaways from Hive5 review
Advantages:
Attractive returns: Hive5 offers a competitive interest rate of 14%, providing the potential for solid investment returns.
Low minimum investment: with a minimum capital requirement of just €10, Hive5 allows individuals to start investing with a small amount of money, making it accessible to a wide range of investors.
Buyback guarantee: Hive5 provides a 60-day buyback guarantee for loans, adding an extra layer of security and protection for investors in case of borrower default.
Auto-investing feature: the platform offers an auto-investing feature, enabling investors to automate their investment strategy and enjoy a passive approach. This saves time and simplifies the investment process.
Considerations:
No secondary market: Hive5 does not have a secondary market, meaning investors may have limited liquidity options for their invested capital. It's important to factor in this aspect if you anticipate needing quick access to your funds before the loan term ends.
New platform: Hive5 is a relatively young P2P investing platform with a short track record.
Limited loan originators: currently, Hive5 only has two loan originators, both owned by the owners of Hive5. This may limit diversification opportunities for investors.
Invest