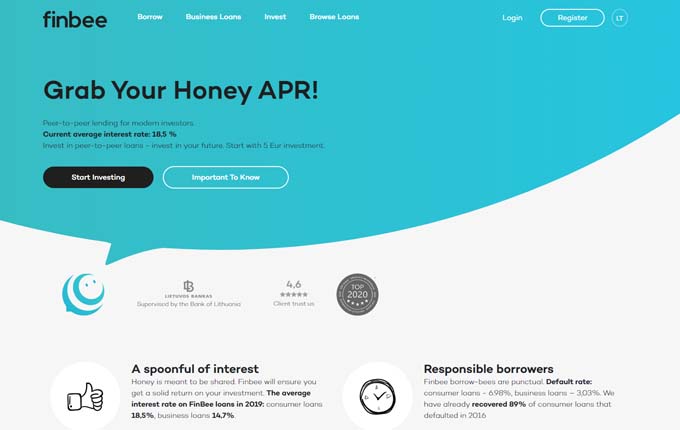 https://www.finbee.lt/

Finbee
Peer-to-peer lending for modern investors.
Type of investment
- Money lending
Type of funding
- P2P lending
Invest
Finbee platform overview and reviews.
Finbee is one of the largest and oldest Lithuanian peer-to-peer lending platforms, founded in 2015. In this platform, you can invest in loans issued to ordinary people and businesses and earn from the interest paid. Finbee has already managed to earn the trust of a large group of investors and has long established itself among the leaders of the Lithuanian P2P lending market. Currently, more than 22 thousand people are actively investing on the Finbee platform. We invite you to familiarize yourself with the Finbee investment platform and review the money investment opportunities available on it.
Finbee investment platform – brief introduction
Investing on the Finbee platform takes place on the so-called peer-to-peer (P2P) principle, when the loans issued here are financed not by one, but by hundreds of different investors. The Finbee platform itself does not issue loans, but acts as an intermediary between people who want to borrow and investors. The Finbee investment platform provides an opportunity to invest in consumer loans issued to ordinary people and businesses. In order to maintain investor confidence, Finbee itself invests at least 12 percent of loan amount in all consumer loans.
Finbee buyback guarantee
The Finbee platform does not provide investors with a redemption guarantee for overdue loans.
Finbee secondary market
The Finbee platform has an active secondary market where loans can be sold or bought from other investors. The use of secondary market services is free for both buyers and sellers of loans. An active secondary market greatly increases the liquidity of investments made on the platform and allows investors to manage their money much more efficiently. For example, if you decide to cash out the invested funds, you can simply sell the available loans on the secondary market.
Finbee autoinvesting
The Finbee platform has an automatic investment feature that allows you to invest according to pre-defined criteria. This feature is available to all registered investors, so you just need to create an auto-investing profile to start investing automatically. In this profile, you can choose and set special criteria according to which the Finbee system itself will invest in loans automatically. It should be noted that on the Finbee investment platform, automatic investment has priority over manual investment, so the majority of loans are financed precisely automatically.
Accountability
The Finbee platform provides detailed annual reports on their activities, which can be accessed on their website at: https://www.finbee.lt/en/reports/.
Investing with Finbee platform
On the Finbee platform, it is possible to invest not only in consumer loans issued to ordinary people, but also in business loans. According to the information published by the platform administration, Finbee approves only 7 out of 100 submitted loan applications. It should be mentioned that Finbee is the first peer-to-peer lending platform that started lending to Lithuanian small and medium businesses. The historical return of Finbee to investors is on average about 14.9%, the terms of the issued loans vary between 12 and 60 months, and the smallest possible investment in one loan is only 5 euros.
Finbee investing platform - registration and first investment
In order to start investing on the Finbee platform, you must first register and verify your identity. You will need to provide your main contact details during registration. The simplest way to confirm identity – is an electronic signature feature. Once your account is approved, a special investor wallet will be created for you, where you can use the funds for all your investments. Before investing, you just need to top up your wallet with the desired amount of funds. The bank transfer usually reaches the Finbee account on the same day.
Once you have investment funds in your Finbee account, you need to choose the loans you want to invest in. When choosing loans, be sure to pay attention to the risk group assigned to the loan. You will also be able to get acquainted with other information about the loan - the borrower, the term of the loan, interest, etc. After choosing the right loans, all that remains is to invest in them. The minimum investment amount on the Finbee platform is only 5 euros, so even people with very small savings can invest here.
Investing with Finbee – review summary
Advantages:
The operation of the platform is supervised by the Bank of Lithuania
The platform has a secondary market
Automatic investment function
The average return of investments on the Finbee platform is 14.9 percent
You can start investing on the Finbee platform with as little as 5 euros
What you should pay attention to:
The Finbee platform does not apply a buyback guarantee for overdue loans
1 Eur/month account service fee is applied to all investors
Invest