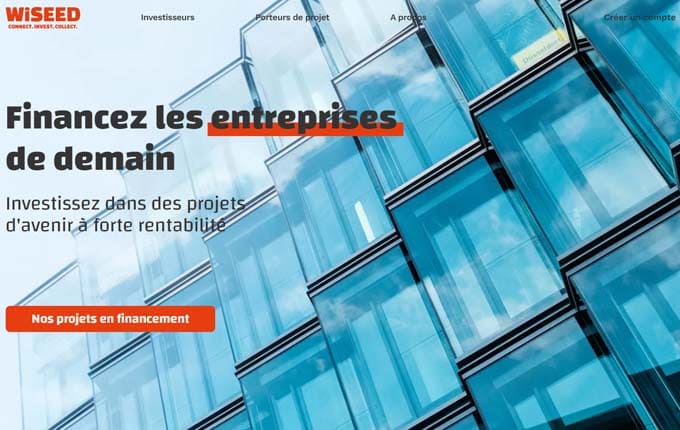 https://www.wiseed.com/

WiSEED
Invest in future projects with high profitability.
Type of investment
- Business funding
Type of funding
- Crowdfunding
- Equity-based funding
Invest
WiSEED platform review.
WiSEED is a reputable crowdfunding investment platform headquartered in France. It provides a wide range of investment opportunities in sectors such as renewable energies, environment, real estate, digital, health, food, and transportation. Since its establishment in 2008, WiSEED has been at the forefront of empowering individuals and organizations to participate in crowdfunding projects.
Setting itself apart from other platforms, WiSEED allows individual investors to not only invest in startups but also in mature companies and SMEs based in France. With a minimum investment starting from €100, investors can anticipate an attractive average annual interest rate of 10%.
How does WiSEED work?
WiSEED stands out for its meticulous project selection process, ensuring that only highly promising and thoroughly evaluated opportunities are presented to investors. This commitment to due diligence instills confidence in users when choosing projects to support.
The platform's user-friendly interface makes investing accessible and straightforward for both experienced investors and newcomers. WiSEED provides comprehensive project information, including financials, risk assessments, and potential returns, enabling investors to make well-informed decisions.
A notable feature of WiSEED is its community-driven approach. Investors can actively engage with project creators and fellow investors, promoting collaboration and knowledge sharing. This sense of community enhances the investment experience, fostering networking opportunities and facilitating learning from others.
Transparency is another key aspect of WiSEED, as the platform regularly provides updates and reports on the progress of funded projects. This level of communication ensures that investors stay informed and connected to their investments.
Investor protection and risk management
Investor protection and risk management are crucial considerations when engaging with WiSEED's investment opportunities. It's essential to acknowledge that crowdfunding investments inherently come with risks, and there are no guarantees of returns. Therefore, investors should exercise caution and thoroughly evaluate the details, risks, and potential rewards associated with each project before making any financial commitments. Conducting a comprehensive assessment will help ensure that investors make informed decisions and manage their risks effectively.
WiSEED review summary
To sum up, WiSEED is a reputable crowdfunding platform that provides a wide range of investment opportunities, prioritizing thorough due diligence and active community engagement. Its user-friendly interface and dedication to transparency make it an appealing platform for investors. By supporting innovative projects through WiSEED, investors have the potential to not only contribute to exciting ventures but also potentially generate attractive returns.
WiSEED pros and cons
Advantages of WiSEED:
WiSEED allows investments in both debt and equity, providing investors with a diverse range of investment opportunities.
It is a reputable crowdfunding platform with a track record of reliable and trustworthy operations.
WiSEED offers investment options across various sectors, including renewable energy, environment, real estate, digital, health, food, and transportation, consolidating multiple business sectors in one platform.
Points to Consider:
WiSEED does not currently provide a secondary market, limiting liquidity options for investors.
The platform does not offer an auto-investing feature, requiring investors to manually select and manage their investments.
Invest