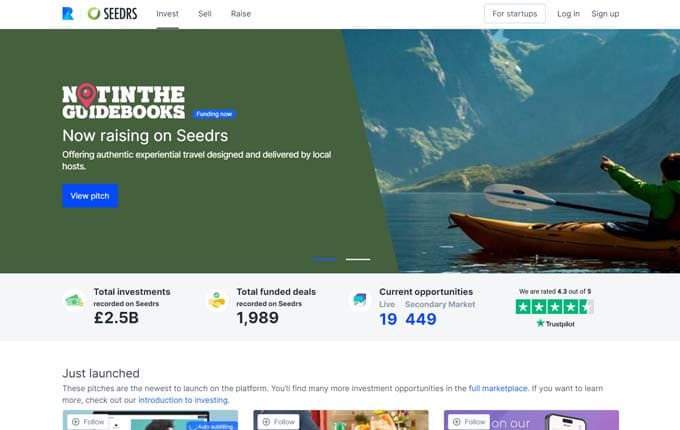 https://www.seedrs.com/

Seedrs
We make it simple to buy into the businesses you believe in and share in their success.
Type of investment
- Business funding
Type of funding
- Crowdfunding
- Equity-based funding
Invest
Seedrs investing platform review.
Discover Seedrs, the platform that makes investing in early-stage startups in the UK and Europe simple and accessible. With a minimum investment amount of just £10, so even a small investor can build a diverse portfolio. Explore the world of exciting business ideas and startups with Seedrs. In this article, we provide a comprehensive overview of the platform and answer important questions to help you get started.
What is Seedrs?
Seedrs, established in 2012, is a prominent equity crowdfunding platform that aims to assist businesses in showcasing their products or services and raising funds from individuals, businessmen, and investors. It has gained significant recognition as one of the leading equity crowdfunding platforms in the United Kingdom and Europe.
For readers outside the UK, Seedrs can be likened to platforms like Kickstarter, but with a key distinction. While Kickstarter does not offer equity in the company to early-stage investors, Seedrs provides this opportunity.
Since its inception, Seedrs has achieved remarkable milestones. In its founding year, the platform secured $1 million in seed funding from private investors and well-known venture capitalist firms. Additionally, Seedrs became the first regulated equity crowdfunding platform authorized by the Financial Conduct Authority (FCA) in the same year.
Seedrs has garnered a positive response from the investment community, largely due to its unique feature of providing liquidity to certain assets that are typically considered relatively illiquid on other platforms. This flexibility expands investment possibilities and enhances opportunities for increased returns.
How does Seedrs work?
While many investment platforms focus on loans and lending money, Seedrs takes a unique approach by offering equity crowdfunding opportunities. This means that investors have the chance to buy shares in unlisted companies, effectively becoming stakeholders in those businesses.
Each investment opportunity varies, but let's consider an example: a new company might offer 10% of its equity for a £100,000 investment. Individual members can then choose to purchase shares ranging from £10 to £100,000 in that particular fundraising round. In practice, it's common for around 1,000 individuals to invest £100 each, reflecting the crowdfunding aspect.
Seedrs operates on a standard setup where project owners can present their ventures on the platform and deliver an investor pitch to raise capital. These project owners provide crucial information about their products/services, market dynamics, business plans, and more. Investors can then decide how much they want to invest and receive a proportional share of the equity in return.
For each project featured on the marketplace, the owners define the equity share that investors will receive. Seedrs allows companies to raise funds for various purposes, including IPOs and seed funding. Each company sets a fundraising target and a time frame on the platform. If the business fails to reach the specified target within the allotted time, the invested money is returned to the investors.
Types of investments available on Seedrs
Seedrs provides you with the opportunity to invest in early-stage and growth-focused businesses and reap the benefits as their value increases. There are three primary ways to invest on Seedrs: equity, funds, and convertible investments:
Equity: the simplest and most common method is to become a shareholder in a business. You choose the specific business you want to invest in, and if the campaign reaches its funding target, you become one of their shareholders. As the company grows in value, so does the value of your shares, giving you the chance to participate in the future success of the business.
Funds: with a single investment, you can diversify your portfolio across multiple businesses and become a shareholder in each. Investing in a fund allows you to support numerous businesses with just one click. When you invest in a fund campaign on Seedrs, you become a shareholder in each of the underlying businesses selected by the campaign organizer. Diversification is key to successful equity investing, and a fund campaign simplifies the process while providing additional support and assistance to the businesses involved.
Convertible: investing in a convertible campaign enables you to invest now and have your investment convert into equity in the future at a discounted rate compared to other investors. This structure is commonly used by angel investors and venture capitalists worldwide. Convertible campaigns eliminate the need to establish a specific valuation for the company upfront. Instead, they offer investors a discount. When the convertible investment converts into equity in the future, typically during a new round of funding, the conversion is based on the discounted valuation at that time.
Investing with Seedrs
Getting started as an investor on Seedrs is a straightforward process. Simply visit the website and create an account. During the registration, you will need to provide some identification documents and link a verified payment method. Seedrs accepts bank accounts and debit cards as valid payment methods, but not credit cards. It's important to note that being a UK citizen is not a requirement to create an account on Seedrs, as the platform is open to international investors.
Once you have successfully set up your account and completed the identity verification process, you can begin exploring investment opportunities. Most project pitches remain open for a maximum of 60 days, although they may close earlier if the target funds are achieved. While the minimum investment amount on Seedrs is typically £10, individual projects may have higher investment requirements.
Performance and returns
Seedrs provides investors with a range of attractive opportunities, but it's important to acknowledge that many of these opportunities come with a moderate-to-high level of risk. Investing in startups or IPOs inherently carries more risk compared to investing in established companies. There is always the possibility that a funded company may not succeed and fail to gain traction. However, on the flip side, there is also the potential for substantial returns if the company takes off, presenting early-stage investors with significant profit-making possibilities.
Is Seedrs safe?
Seedrs provides a secure and trustworthy platform for investing in businesses. It is regulated by the Financial Conduct Authority (FCA) in the UK, which ensures compliance with stringent regulations. As part of these regulations, Seedrs is required to keep clients' assets, such as shares, separate from its own. This means that in the event of Seedrs facing financial difficulties, the shares you have invested in are not considered as Seedrs' assets. As a result, they are protected and not affected by the financial situation of the platform. This separation of assets provides an added layer of security for investors on Seedrs.
How do Seedrs make money?
Seedrs generates its revenue through two main avenues. Firstly, they charge a fee to business owners based on the funds raised through the platform. This fee is applied to the amount successfully raised by the businesses using Seedrs as a crowdfunding platform. Secondly, Seedrs applies a back-end fee of 7.5% on investors' successful exits. This means that when investors make profitable exits from their investments, Seedrs receives a percentage of the returns as a fee. These revenue streams enable Seedrs to sustain its operations and continue providing services to both businesses and investors on the platform.
Seedrs secondary market
Seedrs has introduced a valuable feature by establishing a secondary market where shares can be traded, bringing some level of liquidity to what is typically considered an illiquid market. It's important to note that not all shares are eligible for trading on the secondary market. Even for eligible shares, the ability to buy and sell them will depend on the presence of demand from other investors. There may be instances where it can be challenging to find a buyer or seller, and investors should not assume that an early exit will always be readily available simply because a secondary market exists. It's crucial to consider the potential limitations and market dynamics when assessing the options for buying or selling shares.
Seedrs review summary
Seedrs is a user-friendly and convenient equity investment platform that caters to both businesses and investors. It serves as an excellent resource for discovering captivating businesses seeking funding to accelerate their growth. Moreover, Seedrs offers the added advantage of a secondary market, allowing investors to potentially sell their shares at a later stage if desired.
Seedrs pros and cons
Advantages:
Lots of opportunities: Seedrs provides a wide range of investment opportunities, allowing investors to explore and acquire stakes in early-stage ventures that were previously limited to high net worth individuals.
Secondary marketplace: the presence of a secondary market on Seedrs enables investors to sell their shares for cash at a later point if desired, providing potential liquidity.
What you should pay attention to:
High-risk: it's important to be aware that startup investing inherently carries a high level of risk. However, this risk is balanced by the potential for significant returns if the investment is successful. Caution and thorough evaluation are crucial when engaging in such investments.
Invest