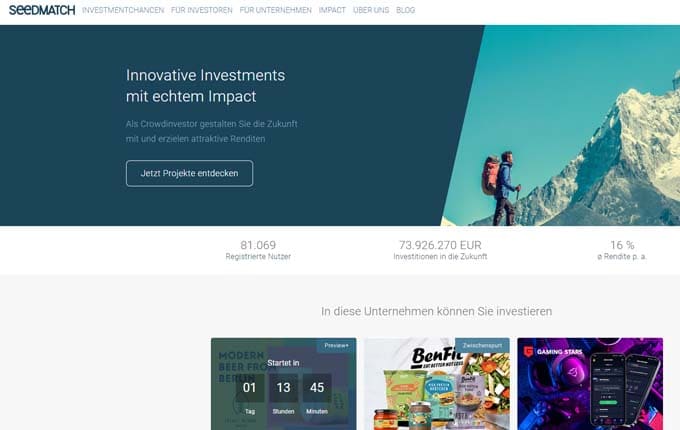 https://www.seedmatch.de/

Seedmatch
Innovative investments with real impact.
Type of investment
- Business funding
Type of funding
- Crowdfunding
- Equity-based funding
Invest
Seedmatch platform review.
Seedmatch is a prominent crowdfunding platform in Germany, established in 2011. It offers individuals the opportunity to invest online in dynamic start-ups and rapidly growing companies with a minimum investment of 250 euros. By investing through Seedmatch, you can participate in the economic success of these companies and build your own diversified portfolio. The platform focuses on exciting future industries such as FinTech and BioTech, providing investors with access to promising ventures.
Seedmatch operates under the umbrella of the OneCrowd Group, which consists of two companies: OneCrowd Loans GmbH and OneCrowd Securities GmbH. OneCrowd Loans GmbH facilitates capital investments, while OneCrowd Securities GmbH handles securities investments. The Seedmatch platform is a trademark of the OneCrowd Group, and it operates under the oversight of these two entities.
Due to regulatory requirements, the placement of subordinated loans and securities is conducted by separate companies within the OneCrowd Group. Depending on the specific investment type, either OneCrowd Loans GmbH or OneCrowd Securities GmbH acts as the broker for the financial investment.
This structure ensures compliance with regulations and allows Seedmatch to provide a platform for investors to engage in crowdfunding activities, supporting innovative companies and contributing to their growth.
Forms of investments available on Seedmatch
Seedmatch offers investment opportunities to support young startups with a minimum investment of 250 euros. There are two main investment options available on the platform: securities and profit-participating subordinated loans.
When investing in securities, you have the choice between shares and bonds. By purchasing shares, you become a co-owner of the startup and have the opportunity to benefit from its growth and success through dividend payments. Bonds, on the other hand, involve lending money to the company and receiving fixed interest payments in return.
For profit-participating subordinated loans, Seedmatch provides two investment options: seed investments and venture debts. Seed investments support early-stage startups that have demonstrated proof of concept and initial sales. These investments have a minimum term of 5 years, with the potential for returns based on the startup's profitability and success. Seed investors also receive a base interest rate of 8% per annum, independent of the startup's earnings.
Venture debt investments, on the other hand, allow you to digitally invest in established companies with a sustainable business model and a clear growth strategy. These companies have already achieved or are close to breaking even. The return on investment increases as the company performs better.
By offering these investment options, Seedmatch provides individuals with the opportunity to contribute to the growth of promising startups and potentially benefit from their success.
Investing with Seedmatch
Getting started as an investor on Seedmatch is a simple and hassle-free process. To begin, visit the Seedmatch website and create an account. During the registration, you will be prompted to provide identification documents and link a verified payment method. Seedmatch accepts bank accounts and debit cards for payment, but credit cards are not supported.
Once your account is set up and your identity is verified, you can start exploring the available investment opportunities. It's important to note that project pitches typically have a maximum duration of 60 days, although they may close earlier if the target funding amount is reached. The minimum investment amount required on Seedmatch is 250 euros.
By following these steps, you can easily kick-start your investing journey on Seedmatch and begin supporting promising startups.
Possible risks
Investing in companies, especially at the early stages, comes with inherent risks and may not be suitable for all investors. The specific risks associated with a particular investment can be found in the investment offer provided by the respective company.
Companies listed on Seedmatch are often in the early phases of their development, working towards establishing a sustainable and viable business model. As a result, there is a high risk of a company not succeeding. Various factors such as the team, technological advancements, intellectual property rights, legal frameworks, competition, and more can significantly impact a company's long-term success. When investing in a company, it's important to acknowledge that there is a possibility of losing your entire invested capital.
Due to the high risk involved, investing in companies is recommended as part of a diversified portfolio. It's advisable to allocate only a small portion of your available capital to investments in companies. Additionally, ensure that you have sufficient capital to invest in a variety of companies over the long term, allowing you to spread your risk. Instead of investing large amounts in one or two companies, it is better to invest small amounts across multiple companies.
It's essential to note that investments made on Seedmatch are typically long-term in nature, with a minimum contract term of five years. Currently, there is no secondary market on Seedmatch. Therefore, it is unlikely that you will be able to terminate an investment contract early or access your invested capital before the end of the minimum contract period for short-term liquidity purposes.
How do Seedmatch make money?
When a crowdinvesting campaign on Seedmatch achieves its funding goal, Seedmatch receives a fee ranging from 5% to 10% of the total amount raised by the respective company.
Seedmatch overview
Seedmatch is a prominent crowdfunding platform in Germany that was founded in 2011. It provides investment opportunities in startups through securities or profit-participating subordinated loans. However, it's important to note that investing in companies carries inherent risks. Investments made on Seedmatch typically have a minimum contract term of five years, emphasizing a long-term investment approach. It's worth mentioning that Seedmatch does not offer an auto-investing feature or a secondary market for investments.
Seedmatch summary
Advantages:
Diverse investment options: Seedmatch offers the opportunity to invest in both loan-based and equity-based opportunities on a single platform, providing a range of choices for investors.
Points to consider:
High level of risk: it is essential to recognize that investing in startups inherently involves a high degree of risk. However, potential returns can be substantial if the investment proves successful. Due diligence and careful evaluation are crucial when considering such investments.
liquidity: Seedmatch does not provide a secondary market for investments, which may restrict the ability to easily sell or exit investments before the intended duration, reducing liquidity.
Long-term orientation: investments made on Seedmatch are typically intended for the long term, with a minimum contract term of five years. This may not be suitable for all investors, and individuals should consider their investment horizon before committing funds.
Invest