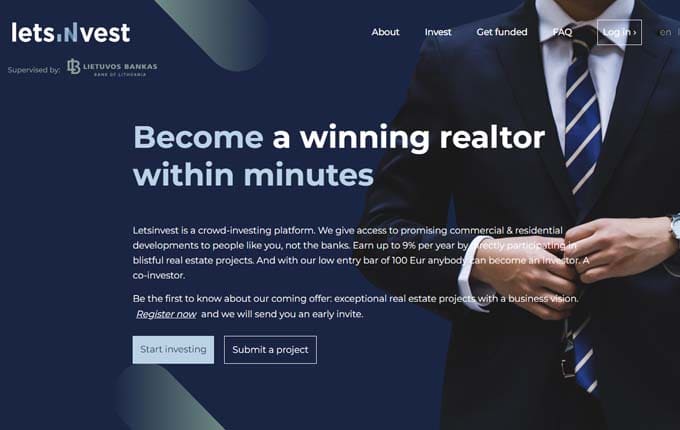 https://letsinvest.eu

Letsinvest
Become a winning realtor within minutes.
Type of investment
- Real Estate
Type of funding
- Crowdfunding
- Equity-based funding
Invest
Letsinvest investment platform.
Letsinvest is a crowdfunding platform founded in 2020, which gives investors the opportunity to invest in real estate projects, ensuring investment security by pledging assets. More than 800 investors are actively investing on the Letsinvest platform, who jointly financed real estate objects for more than 7.5 million euros. The Letsinvest platform is included in the Lithuanian Public List of Crowdfunding Platform Managers, and its activities are supervised and controlled by the Bank of Lithuania. We invite you to familiarize yourself with the features of investing on the Letsinvest platform in more detail.
Letsinvest reviews and general information
The Letsinvest platform is a fairly safe way to invest in real estate projects under development. All loans financed on the platform are secured by asset pledge, so even in case of possible insolvency of the borrower, investors' financial interests will be maximally protected. Residential or commercial real estate objects are usually offered as loan collateral. It should be noted that Letsinvest does not participate in the development or investment of real estate projects, but only mediates in the search for profitable and promising real estate projects.
One of the biggest features of the Letsinvest platform is that the projects offered by this platform are characterized by a short and medium financing period and usually do not exceed 24 months. The historical return on this real estate investment platform is 12 percent, and the average size of one investment reaches as much as 41 thousand euros. Today, the Letsinvest platform is mainly focused on the local real estate market and offers to invest in real estate projects being developed in Lithuania.
Letsinvest buyback guarantee
The Letsinvest platform does not provide a buyback guarantee of overdue loans. On the other hand, all loans financed on this investment platform are secured by asset pledge, which reliably protects the financial interests of investors.
Letsinvest secondary market
To date, there is no functioning secondary loan market on the platform.
Letsinvest autoinvesting
To date, the platform does not have autoinvesting functionality.
Accountability
Letsinvest only provides aggregated data on the performance of the platform on its website. Here you can familiarize yourself with the general statistics of the platform's activity and yield, as well as the dynamics of overdue loans. Letsinvest does not publish annual reports of its activities.
Letsinvest reviews and first investment
All persons over the age of 18 who have an account in a bank of any European Economic Area (EEA) country can invest on the Letsinvest platform. The platform offers investors a choice of two membership plans that provide different investment opportunities.
Letsinvest membership plans:
"Discovery" membership - minimum investment just from 100 EUR. This is the base plan that many private investors choose. By choosing this membership plan, you will be able to invest in all publicly announced real estate projects and receive an average of 12% annual investment return.
"Growth" membership is a plan intended for large investors who are ready to invest in real estate from 50,000 euros. By choosing this membership plan, the investor has the opportunity to learn about the latest real estate projects before others, to participate in the property management of the project under development, or to get involved in real estate projects that generate long-term rental and sales income. A personal investment portfolio advisor is also assigned to an investor who has chosen "Growth" membership.
Registration on the Letsinvest platform
It is very easy to start investing on the Letsinvest platform. First of all, you need to create your personal account. It is very easy to do this, because you can log in to the platform with your existing Google or Facebook accounts or by entering your e-mail address and password. When creating an account, you will have to choose whether you want to invest on the platform as an individual or as a legal entity. The next step in registration is to verify your identity. You can confirm your identity on the Letsinvest platform with the help of the Ondato or Paysera platforms. Finally, you will need to answer a few questions and fill in the missing account details. After completing all the steps correctly, your personal investor account will be approved and you can start investing.
Before you start investing, don't forget to top up your account with the desired amount of money. The historical return of the Letsinvest platform is on average 12%, but the final investment result basically depends on the investment strategy you choose. The minimum investment on the Letsinvest platform is only 100 euros, so even people with small savings can start investing here.
Letsinvest platform overview
Advantages:
The operation of the platform is supervised and controlled by the Bank of Lithuania
Funded loans are secured by a first mortgage
Short and medium investment period (12-24 months)
The opportunity to start investing from just 100 euros
What should you pay attention to:
The secondary loan market does not work
There is no automatic investment functionality
Invest