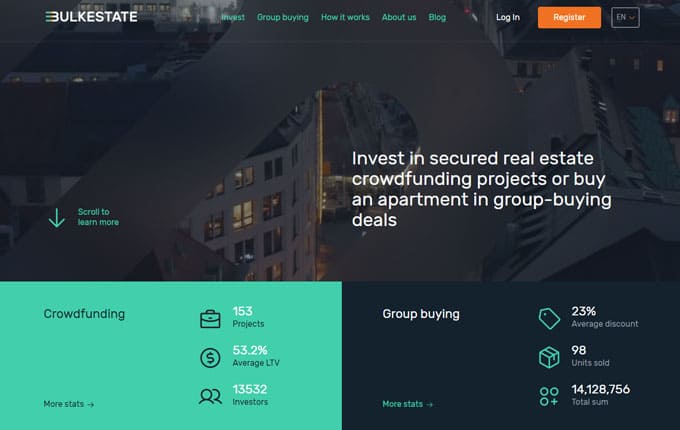 https://www.bulkestate.com/en

Bulkestate
Invest in secured real estate crowdfunding projects or buy an apartment in group-buying deals.
Type of investment
- Real Estate
Type of funding
- Crowdfunding
- Equity-based funding
Invest
Bulkestate platform review.
Welcome to our comprehensive review of the Bulkestate platform. In this review, we will explore the features, user experience, trustworthiness, performance, and more, that make Bulkestate a standout option for investors looking to unlock lucrative real estate investment opportunities. Whether you're a seasoned investor or just starting out, join us as we delve into the details of this transparent and user-friendly platform.
What is Bulkestate?
Bulkestate is a renowned online investing platform that connects investors with real estate projects, offering an opportunity to diversify portfolios and participate in lucrative ventures. Founded in 2016, Bulkestate operates from Estonia and boasts a team of experienced professionals dedicated to revolutionizing the real estate investment landscape. With a commitment to transparency and investor satisfaction, they have established themselves as a trustworthy player in the industry.
How does Bulkestate work?
Bulkestate operates as an online real estate crowdfunding platform, connecting investors with carefully selected real estate projects. The developers submit their projects to Bulkestate, which then conducts a thorough due diligence process to ensure that the project is viable and meets the platform's standards. Once a project has been approved, it is listed on the platform, and investors can invest in the project by purchasing shares or lending money to the developer.
Types of investments available on Bulkestate
Bulkestate offers two types of investment opportunities on its platform: crowdfunding and group buying.
Crowdfunding: through crowdfunding, investors have the opportunity to participate in real estate projects by contributing funds alongside other investors. These projects can include various types of properties such as residential, commercial, or development projects. Investors can select projects based on their preferences, risk appetite, and investment goals. By pooling funds together, investors can collectively finance the project and share in the potential returns.
Group buying: bulkestate also provides group buying opportunities, allowing investors to join forces and collectively purchase a property or a group of properties. This approach enables investors to leverage the collective purchasing power to negotiate better deals, access exclusive opportunities, and diversify their investments across multiple properties.
Both crowdfunding and group buying options offer investors the chance to diversify their portfolios and participate in real estate projects that may have been otherwise inaccessible to individual investors. These investment options cater to different risk profiles and provide investors with the flexibility to choose projects that align with their investment strategies.
Investing with Bulkestate
The investment process on Bulkestate is straightforward. Registering an account is hassle-free, and funding options are flexible, including bank transfers and online payment systems. The platform provides detailed information about each project, allowing investors to make well-informed decisions based on their risk appetite and investment goals.
Performance and returns
The average annual return for investors on Bulkestate is around 14%. With a proven track record of delivering solid returns, Bulkestate stands out as a reliable platform for investors. While it's important to note that past performance does not guarantee future results, historical data demonstrates that Bulkestate has consistently generated competitive returns compared to traditional investment options. These returns are typically distributed to investors in the form of regular interest payments or dividends, offering a reliable and steady income stream.
Investor protection and risk management
At Bulkestate, transparency is at the core of their operations. They go above and beyond to provide investors with access to essential project documentation, including feasibility studies, financial projections, and legal agreements. By offering this level of transparency, Bulkestate empowers investors to conduct thorough assessments of the potential risks and rewards associated with each investment opportunity.
Furthermore, Bulkestate places a strong emphasis on investor protection and effective risk management. Prior to listing a project on the platform, Bulkestate conducts an extensive due diligence process to ensure that the project meets their rigorous standards. To assess project risks, the platform collaborates with independent legal and technical experts who provide valuable insights.
By prioritizing transparency, investor protection, and diligent risk management practices, Bulkestate establishes itself as a trusted platform where investors can make informed decisions with confidence.
Bulkestate auto investing
Bulkestate platform offers investors an auto investing feature as a convenient and hassle-free way to automatically allocate their funds across various projects listed on the platform. This feature enables investors to create a diversified portfolio of real estate investments while saving valuable time and effort.
While the auto investing on Bulkestate is relatively basic, it serves its purpose by ensuring that investors do not miss out on any investment opportunities available on the platform. However, there is room for improvement in terms of enhancing the functionality and customization options. Despite its simplicity, auto investing provides a valuable solution for investors seeking a hands-off approach to investing in a range of real estate projects. It streamlines the investment process and allows investors to benefit from a diversified portfolio without the need for constant manual intervention.
Bulkestate buyback guarantee
While Bulkestate does not offer a buyback guarantee for loans in overdue arrears, it is important to note that loans financed by the platform typically come with a robust layer of security. Most loans are secured by a first mortgage, which serves as a tangible guarantee that investors will be repaid, even in the case of late payments.
While the absence of a buyback guarantee for overdue arrears may introduce some level of risk, the presence of a first mortgage provides investors with an additional layer of protection. This security measure helps mitigate the potential impact of late payments and provides investors with reassurance that their investments are backed by tangible assets. It is advisable for investors to carefully consider the risk profile of each project and assess the overall security measures in place before making investment decisions on the Bulkestate platform.
Bulkestate secondary market
At the moment, Bulkestate platform does not offer a secondary market where loans can be bought or sold among investors. While the absence of a secondary market on Bulkestate may limit liquidity and the ability to trade loans, it is worth considering the platform's focus on carefully curated investment opportunities in the primary market. Investors can still explore a range of projects and invest directly in the initial issuance, benefiting from the potential returns and income generated by those investments.
Investor experience and user interface
Bulkestate's website is intuitive and user-friendly. Navigating through the platform is seamless, with a well-designed interface that allows users to easily find relevant information. The account management system provides investors with a clear overview of their portfolio and investment performance. Should any questions or concerns arise, Bulkestate's customer support team is responsive and helpful.
Conclusion
Bulkestate is a reputable platform that enables investors to tap into the potential of real estate investments. With a user-friendly interface, competitive returns and transparent processes, Bulkestate offers a compelling option for those seeking to diversify their investment portfolios. If you are interested in investing in real estate through a crowdlending platform, Bulkestate is definitely a platform to consider.
Bulkestate summary
Advantages:
Most of the projects offered for financing are secured by first-line mortgages
Possibility to invest in lending and equity-based projects in one place
You can start investing just from 50 euros
Competitive average returns (14%) compared to traditional investment options
What you should pay attention to:
Bulkestate does not provide a buyback guarantee
There is no secondary market on Bulkestate
Auto-investing has quite quite limited functionality
Invest
Latest projects.
Invest in secured real estate crowdfunding projects or buy an apartment in group-buying deals.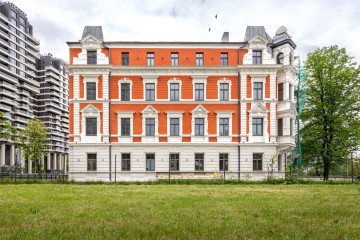 Raņķa Dambis - 4th stage
Goal: 70000 €
Rised: 70000 €
Invest in project
Last updated: 2023-09-30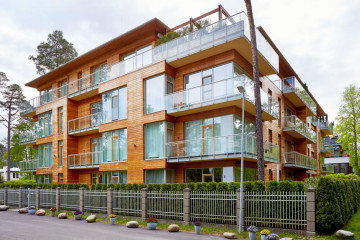 Bulduru Avenue
Goal: 55000 €
Rised: 55000 €
Invest in project
Last updated: 2023-09-30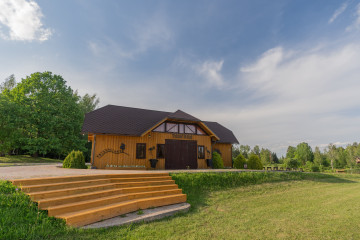 Trīssaliņas 2nd
Goal: 120000 €
Rised: 120000 €
Invest in project
Last updated: 2023-09-30