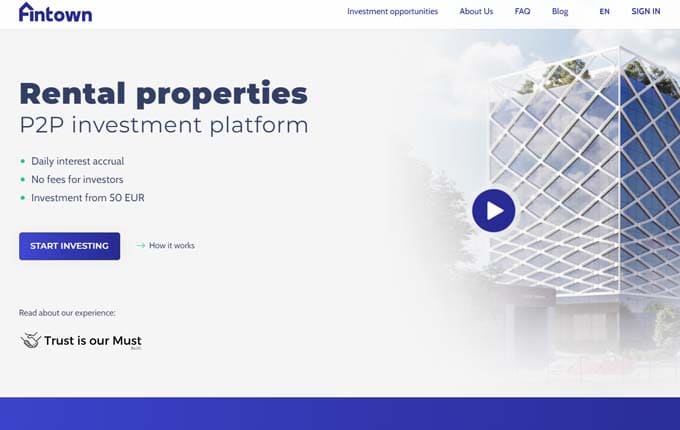 https://www.fintown.eu/

Fintown
Customer trust, the foundation of our business.
Type of investment
- Real Estate
Type of funding
- Crowdfunding
Invest
Fintown platform review.
Fintown is a crowdfunding platform based in the Czech Republic, specializing in rental property investments in Prague's city center. The platform strives to democratize real estate investing, allowing individual investors to diversify their portfolios and capitalize on the lucrative returns of property investments. With an average annual yield of 10% and monthly interest payments, Fintown offers attractive investment opportunities for those seeking to enter the real estate market.
Investment options on Fintown
Fintown provides a range of real estate investment opportunities, with a focus on short-term rental apartments in Prague. The city's enduring popularity as a tourist destination makes it an attractive market for such investments. As tourism resumes, the demand for short-term rentals is expected to grow, presenting property owners and investors with favorable prospects.
At Fintown, your investments revolve around loan participation agreements entered into by the platform in collaboration with developers. These agreements serve as the financial backbone for various real estate projects showcased on the platform. When you participate in these loans, you gain the right to share in the income generated from the loan agreement between Fintown and the developer. Your share of the income is directly proportional to the amount you invest in acquiring the participation.
For instance, let's say you invest 1000 € to acquire a participation in a loan with a principal amount of 100000 € (investment target). In this scenario, you would receive 1% of the total income allocated to investors under this particular loan agreement.
In the case of rental projects, you receive the participation right away. However, for Development projects, your participation becomes effective only if the fundraising for that project is successfully completed. From that moment on, you become a participant in the relevant loan agreement.
So, through your investment, you will gain participation in loans for rental projects immediately. For other types of projects, your participation will initially be conditional, but it will automatically transform into active participation once the fundraising for the project achieves its goal.
By investing in these loan participation agreements, you become an integral part of the real estate projects on Fintown, potentially reaping the benefits of the projects' success and contributing to the growth of the platform's real estate ventures.
Investing on the Fintown platform
The process of opening an account on Fintown is designed to be user-friendly and efficient. To begin, you need to provide basic personal information and upload a copy of your identification document for verification purposes. The verification process typically takes a few days, which is reasonable considering the importance of ensuring investor security.
Once your account is verified, you will have access to the Fintown platform's dashboard. The user interface is clean and intuitive, making it easy to navigate and manage your investments. The platform offers a seamless user experience, with clear navigation menus and convenient access to key features such as the investment marketplace, portfolio overview, and transaction history.
Flexibility is a notable highlight of the platform. Fintown places emphasis on providing easy exit options for investments, offering daily interest accrual (as opposed to monthly, which would limit exit flexibility), and charging 0% commissions on cash deposits and withdrawals. Additionally, there are no fees for participating in an investment. You can start investing with as little as €50, making it accessible to a wide range of investors.
Early exit and liquidity
On Fintown, each project listed has a minimum term that represents the lock-up period for your funds. These terms can range from 9 to 36 months. Once the term is completed, you have the option to withdraw your funds at any time without incurring any additional costs. However, if you decide to exit your investment before the end of the loan term, you can do so by sending an email request to Fintown.
It's important to note that Fintown charges an exit fee based on the remaining period of the loan. The fee structure is as follows:
Exit within 1-12 months: 30% of the principal.
Exit within 13-24 months: 20% of the principal.
Exit within 25-36 months: 10% of the principal.
Unlike some other platforms in the industry, Fintown does not provide a secondary market where you can sell your investment to other investors. If you choose to exit before the end of the investment period, the fees can be quite significant. We recommend utilizing this option only when absolutely necessary.
Regulation
The investments offered by Fintown do not fall under a specific regulation in the Czech Republic. This information has been confirmed by the regulator in a separate statement, which is available on Fintown's website. It's important to be aware of this aspect when considering investing through the platform.
Fintown summary
While investing in rental properties is not a novel concept, Fintown provides a unique offering in this space. With Fintown, you have the opportunity to participate indirectly in the short-term rental business with minimal effort. The available investments on the platform are operational rental units that enjoy high occupancy rates in one of Europe's most popular tourist destinations, along with excellent guest reviews.
By investing in already operational rental units, you can reduce the associated risks compared to investing in development loans, which come with their own set of risks related to property construction. This approach can potentially enhance your returns while minimizing certain uncertainties.
Considering the current market environment and the limited availability of loans on established platforms, Fintown presents exciting investment opportunities with attractive terms. It provides investors with a chance to capitalize on the market dynamics and potentially benefit from the robust rental market in the selected location.
Overall, Fintown presents a unique opportunity for individuals looking to invest in rental properties in Prague, with a low entry point and the advantage of monthly interest payments. However, it's important to consider the limited project availability, absence of a secondary market, and the non-mortgage-backed nature of the loans when making your investment decisions.
Fintown overview
Advantages:
Exclusive opportunity to invest in rental properties located in the city center of Prague.
Fintown offers a low investment threshold, allowing you to start investing with just 50 euros.
Enjoy the convenience of monthly interest payments, providing you with a regular income stream.
Points to consider:
The availability of investment projects on Fintown may be limited at certain times, potentially impacting your investment choices.
Fintown does not provide a secondary market, which means you cannot easily sell your investments before their maturity.
It's important to note that the loans on Fintown are not backed by a mortgage, which may increase the overall investment risk.
Invest
Latest projects.
Customer trust, the foundation of our business.